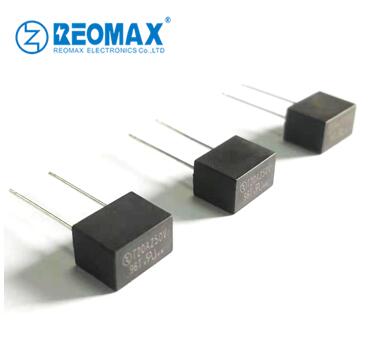 REOMAX 96T miniature fuse, low internal resistance, with strong segmentation ability. Lead-free, halogen-free, has been U L VDE PSE K C CCC Certification, SGS Certification, environmental protection. Size: 8 * 4 * 7.7 mm, 8 * 4 * 5 mm, 5 * 5 mm pin distance, low PCB board space requirements, shockproof casing, vibration resistant. The miniature fuse can be widely used in battery charger, consumer electronics, power supply, industrial controller and other fields.
The miniature fuse is the fuse with the development of the tiny volume. Common Miniature Fuses such as glass tube Fuses and sheet Fuses in automobiles, Chinese name, miniature fuse, foreign name Micro Fuses purpose, protection Power Input 1 product can be divided into square type miniature fuse and cylindrical type miniature fuse according to shape. The sizes of reomaxFUSE miniature fuse are: 8 * 4 * 5 mm 8 * 4 mm, 8.5 * 8 mm, 8.5 * 8 * 4 mm 12 * 6 * 9, current range from 50mA-30A; Models are: [2] MTC MFC MFS mnfs NFS TMS FMS 96F 96T series, voltage is divided into: 125V 250V 300V 350V 400V 500V
The micro-fuse can be divided into fast fuse and slow fuse according to fuse performance. 3 according to the standard can be divided into American gauge and European gauge, obtain attestation to have: Ul vde semko CUL CCC EK pse.
The shape of the miniature fuse is divided into lead type and sheet type. If the structure of the fuse element is divided, the miniature fuse can be divided into linear type and film type. In the fuse industry, there are many kinds of fuses, according to volume, materials and shape classification, in general, the square fuse is specifically refers to the square micro-fuse, today to talk about the advantages of the square fuse.
As is known to all, fuses have the characteristics of small size and so on. Compared with other fuse components, however, the volume of the square fuse is also small among the many fuses, the pin distance is 5.08 mm, and the space occupied by the circuit board is relatively small, it's a lot less space than a traditional fuse. Secondly, the square fuse apart from the two leads, the surface is made of plastic materials, so the surface insulation, with flame retardant and insulation. Square fuse (perfect for replacing the traditional 3.6 x 10 tube)